---
"When Club Pilates invited me to take a few classes to try them out and share my experience with all of you…
I was scared. Like legit nervous.
I'd seen the reformers at other gyms. I had done some Pilates-style workouts before. But I had never taken a Pilates class.
And when you aren't really sure what to expect, it can be a little scary!
I just had Rowen 6 months ago, and I really didn't exercise much during these past 6 months because I was nursing an injured shoulder. So you could say my fitness level was pretty low. My body still knows how to exercise, but it has been a while before I had done anything very strenuous.
I let the staff at Club Pilates know this, so that they could help me find classes that were the right fit for me. My first class was Reformer Flow 1, my second class was Reformer Flow 1.5, third was Cardio Sculpt, and last was Suspend. Here's how it all went down.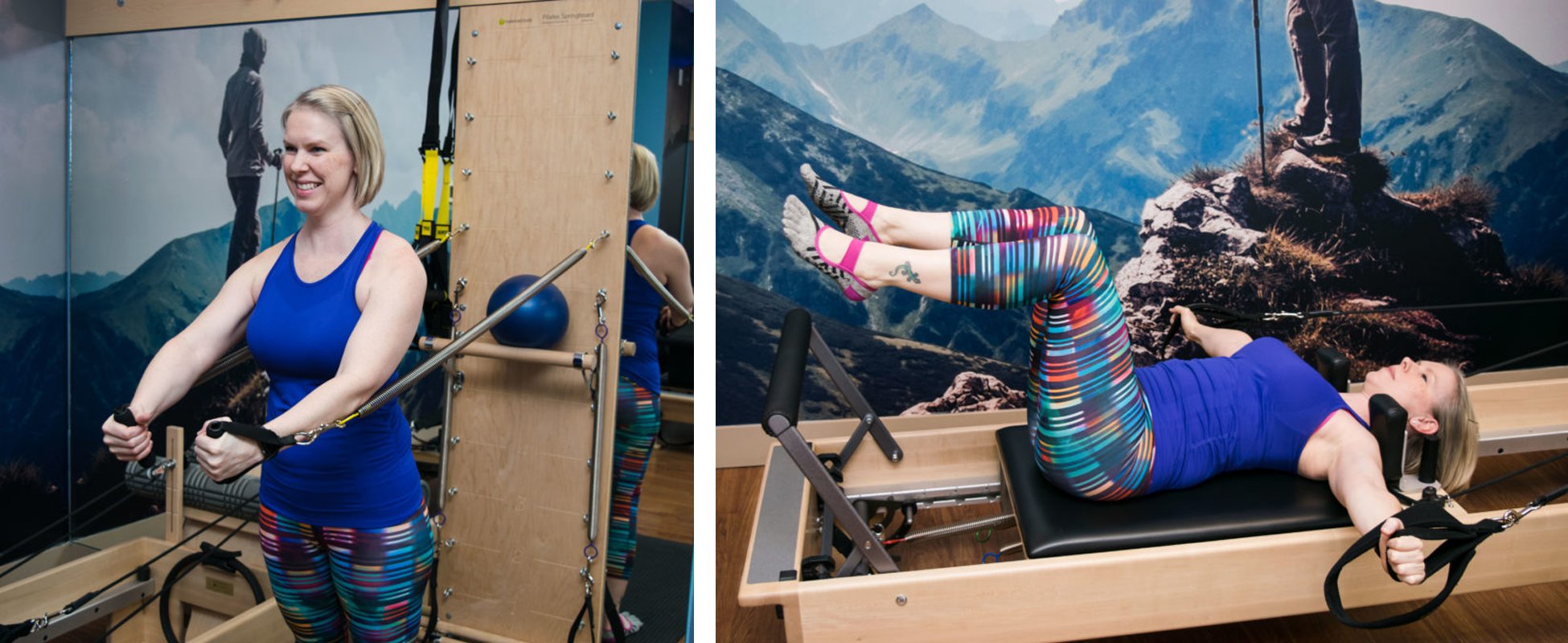 Club Pilates Reformer Flow
I'm lumping Flow 1 and 1.5 together because they were similar classes with a slight difference in difficulty. We spent most of the class on the reformer, which was actually pretty fun. The gentle resistance made for a nice burn in my legs without any impact. We incorporated some moves on the springboard later in the class and did some ab work on the mat. In Flow 1.5, we held light weights to add just a little more difficulty to the arm movements.
I really felt like Flow 1 was the perfect place for me to start. Even though I have a history of HIIT and heavy lifting, being able to really take things slow and find my core was a good feeling. So often, exercise is all about moving fast and breathing hard (and trust me, I was doing some hard breathing in Pilates!), and we forget to maintain proper alignment in our bodies.
Another thing I really loved about this was that even though it was a group class, you don't really see the other people in the class. So it feels like you're getting a one-on-one training session! And the instructors are amazing. They notice your form and will ask if you'd like for them to help you adjust your body for better alignment. I always appreciate someone helping me exercise more safely!
Club Pilates Cardio Sculpt
Two things about Cardio Sculpt: 1. It was tough! and 2. I LOVED IT. I think this class was my favorite of all four. In this class, we were actually jumping with the reformer. It really ramped up the intensity without adding a lot of impact.
These straps were another little contraption that I loved. They are so versatile – good for working muscles you didn't know existed, and also good for getting a good stretch at the end!
I really felt like my body was lengthening throughout these workouts. My core was definitely sore after every class, letting me know that I was staying engaged properly.
This class challenged me in ways I hadn't experienced before. I love that it has the backbone of classical Pilates, with a modern approach that incorporates the TRX straps, weights, and Bosu.
Try it yourself!
Club Pilates is giving YOU a complimentary free intro class to try! All you have to do is sign up HERE! Whether you are 18 or 68, an experienced fitness buff or a beginner, there is a class that is perfect for you.
Sign up today and see for yourself!"
Authored by Amanda Seghetti