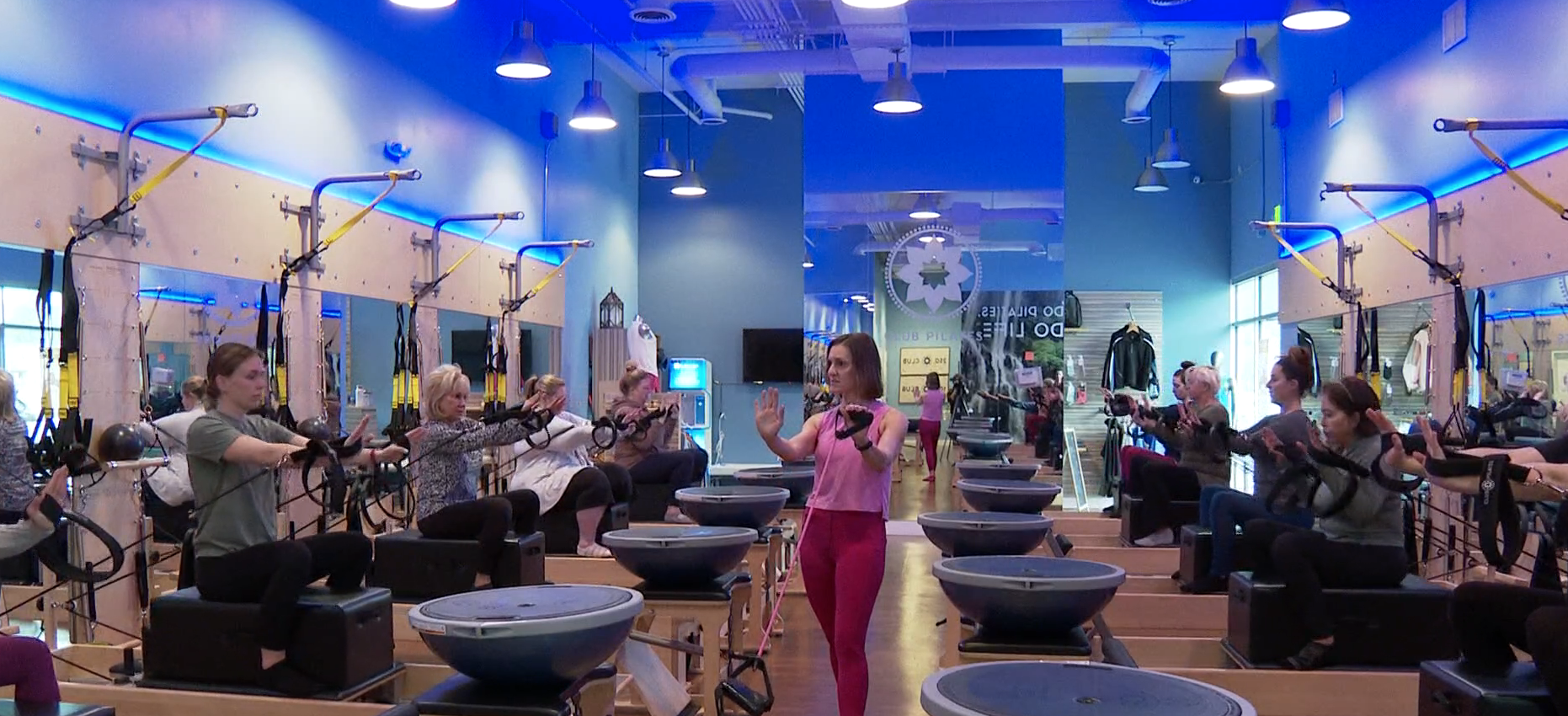 ---
As seen in KUSA-TV CBS 9NEWS here.
Ann Ramos has been teaching fitness for 25 years, despite having a visual disability. She teaches Pilates through thorough cues.

As she walks into her Club Pilates studio in Englewood, Ann Ramos has a clear-cut routine: take off her shoes, claim the far-back reformer, and adjust the resistance springs for her personal preference. Then, she does one thing that sets her apart from the rest of the women in the room.

Ann reaches into her bag and reveals a pink rubber resistance band. She ties one side to the reformer and grabs the opposite handle like a long tether.

As she takes a few steps into the center of the room, the band stays in her hand, and the clients perk up to attention.

"I'm visually impaired so I'm going to be cuing you a lot, since I can't see you, I'm going to cue you so you get a safe and effective workout, okay?" she said to introduce herself to the class.

This may be a new experience to the clients in the room, but Ann is no stranger to teaching fitness. She's a 25-year veteran of fitness instruction -- but Pilates is her newest passion.

"I thought about for a long time becoming a teacher, but I just wasn't sure because being visually impaired I thought, I don't know how that's going to work and finally I just went ahead and took a leap of faith and did it," she said.

Despite her visual impairment, Ann is extremely attuned to the mind-body connection.

"The other instructors are watching, they can see if they're out of alignment. I can't do that, so I have to make sure my cuing is on point and very detailed so that if anyone is out of alignment, I can cue them back into the right, safe alignment," she said.

Ann said she never liked to put her disability on display, that was until she realized what her super power could potentially do for someone else in the room.

"Maybe this is why I'm doing this, for me of course, but maybe I'll motivate and inspire somebody else that may be thinking, 'gosh I can't do that because of a disability,' or some kind of disadvantage, but then, 'oh gosh, she's doing it!'"

And by taking this leap, she's living up to her life's motto.

"One of my favorite quotes from Hellen Keller is, 'life is either a daring adventure -- or nothing,' so I'm going to make it a daring one, even though it's scary, I'm going to do it anyway!"
Find a Club Pilates near you and try a class!