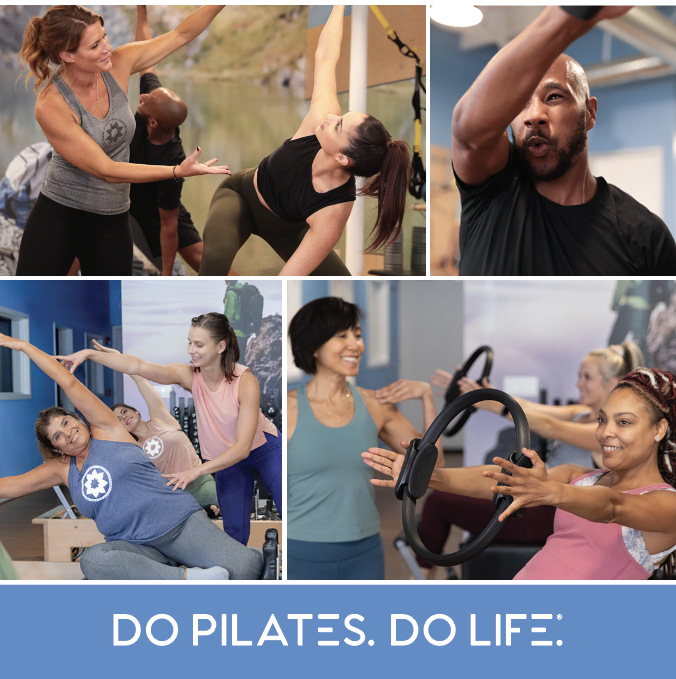 ---
As seen in Good Morning America.
Australian-based Pilates instructor and influencer Bailey Brown summed up the Pilates craze succinctly in a now-famous TikTok: "Gorgeous, gorgeous girls do Pilates. Pilates girls are hot."
Brown's post has gained the attention of millions, and the audio has been shared numerous times on TikTok.
The now-trending exercise has also become a favorite amongst celebrities like Duchess Meghan and Jennifer Aniston, and was popularized recently on the Met Gala red carpet by beauty entrepreneur Lori Harvey when she pointed to Pilates when Essence's beauty and style editor Blake Newby asked, "What's the trick to the abs?"
While most market research doesn't track Pilates separately from yoga, a report by Research Dive, the global Pilates and yoga studios market was expected to pull in revenue of $269.3 billion by 2028 compared to $127.7 billion in 2021 -- a compound annual growth rate of 10%.
Fitness influencers Elizabeth Endres and Dale Stabler of
Sweats & The City

told "Good Morning America" they were initially "intimidated" to try Pilates.

"However, when New York Pilates opened in their beautiful space in SoHo, it felt more approachable with class names like 'ABS ARMS A**'.'' We felt like they were trying to get the younger generation onto pilates and make it fun," said Stabler.

Endres added, "Pilates is a challenging, low-impact exercise that really works muscles and parts of your body in ways no other exercise can. It's about form and alignment and building a really strong foundation. We think a lot of people became tired of breaking their bodies down and wanted to explore all the benefits of Pilates. Not to mention, a lot of amazing studios have popped up in the last year or so."
What is Pilates?
Created by German physical trainer Joseph Pilates in the 1920s, Pilates is a low-impact exercise focused on form and alignment to enhance strength building as well as flexibility. It can be done on a mat or reformer and practiced through other Pilates apparatuses.
Club Pilates master trainer Shepherd Joseph told "GMA" that the most popular form of Pilates right now is performed on the reformer apparatus, which has springs that create multiple levels of resistance and straps for your arms and feet to move on a pulley system. "The reformer resembles a bed, as it was originally designed after a hospital bed when Joseph Pilates was rehabbing injured soldiers."
Joseph went on to break down different types of Pilates -- including everything from "classical" to "apparatus" formats.
Classical vs. Contemporary Pilates: Classical Pilates is a style that stays true to the original Pilates method, called Contrology, created by Joseph Pilates. Contemporary Pilates, seen at Club Pilates, is more of a blend of Joseph Pilates' original method and new-age research and exercises adapted from physical therapy.
Mat Pilates vs. Reformer Apparatus Pilates: Mat Pilates is a series of full-body exercises performed supine on a Pilates mat -- prone, kneeling or standing. Reformer Pilates uses the Mat Pilates principles and performs the exercises with resistance and the pulley system -- creating more intensity or assistance depending on the exercise.
What are the benefits of Pilates?
Pilates has a wide range of important health, fitness and overall wellness benefits.
Cedric X. Bryant, president and chief science officer of the American Council on Exercise, told "GMA" that it can also "improve muscular endurance, flexibility and posture, and in combination can lead to a reduced risk of injury as well as a decrease in existing chronic pain. And, because of the focus on mindfulness, Pilates can reduce stress levels, anxiety and depression."
He also added that Pilates can be an excellent option for people just starting an exercise routine, as well as those recovering from injury.
"It's great for at-home workouts and can be done in short bouts of around 10 minutes, so there is no need to perform a 60-minute workout to reap the benefits," Bryant said.
Additionally, several studies show that Pilates can be beneficial in everything from reducing chronic low back pain to reducing stress and anxiety.
Why is Pilates so popular?
"Almost the entire boutique fitness trend over the past decade was driven by harder, faster, louder," New York Pilates founder Heather Andersen told "GMA." "Everyone from beginners to athletes maxed out in class, resulting in injuries and burnout. Some boutique fitness studios even used reformer-lookalike machines and movements that were intended to push students to the limits."
Alternatively, Andersen championed how Pilates can be an "extremely rewarding full-body, low-impact workout."
"It's a smarter way to strengthen your entire body, tone your muscles and get fit," she said. "It's an efficient practice and it's a workout you can do every day."
Experts have also noted the Pilates rise may be partially credited to the COVID-19 pandemic when many people shifted from high-intensity workouts solely focused on fitness and performance to more intentional activities that enhance the mind as well.
The ongoing rise of popular social-sharing platforms such as TikTok, YouTube and Instagram has also increased exposure to the workout and helped with its resurgence.
To date, the hashtag #pilates has over 23 million related posts on Instagram.
Rise of modern-day Pilates boutiques
Modernized boutiques and offerings have also sprung up along with the growing interest. Andersen credited some of the success of her airy, bright New York Pilates studios to the company's use of social media and making it appealing to downtown New Yorkers. "Pilates is not a trend, it's a movement," said Andersen.
She continued, "By creating beautiful environments that feel more like homes instead of gyms, NYP has created a space that people want to work out in. You'll feel like you're working out in the apartment of your dreams. We hire the absolute best 400-hour certified Pilates instructors and students have started realizing just how effective Pilates can be."